A promising
future for an
at-risk mother
in Nepal
When Ita's* husband left her, she was devastated.
What will I do? she wondered. How will I provide for my young daughter?
In Nepal, where she lives, girls are often uneducated and unskilled. When they marry, they are fully dependent on their husbands to provide for them.
So, to find herself single, unskilled and penniless was terrifying.
To make matters worse, "As a single mother with a young daughter, I was shunned by my community," she said.
Ita found herself in a very unsafe situation
Single mothers and widows with no husband to look out for them are especially vulnerable to violence, traffickers, loan sharks and others who find them easy to prey upon, especially in Nepal.
With its wide-open border to India (the number-one country in the world for human trafficking), Nepal
is one of the most dangerous places in the world for girls and women, according to the UNODC.
Alone and hopeless, Ita could have easily been tempted, tricked or forced into slavery or the sex industry. Or she could have been left feeling that she had no choice but to sell her young daughter to survive.
The hope YOU offer to the hopeless
Thanks to you and others who give, She Is Safe has a program in Ita's community. When coworkers learned of Ita's situation, they reached out to her.
Ita was able to go through She Is Safe's vocational tailoring training. Upon graduating, she received her own sewing machine.
Today, Ita is remarried to a loving and supportive man, has a second daughter and owns her own sewing business, which provides income for her family.
Yet, Ita's story doesn't end here . . .
The generational change YOU make possible!
As her daughters get older, Ita will likely be able to train them in sewing, so they too have an income- generating skill, which will protect them from traffickers.
Thank you for all you do to help rescue at-risk girls and women. As you equip them with life-changing skills, you are helping to break the cycle of generational poverty and vulnerability.
*She Is Safe uses representative names and photos to protect the dignity and security of those we serve.
Message from Our Founder
What does life transformation through She Is Safe look like?
It can be preventing a life of desperation by equipping a single mom like Ita of Nepal with an income-generating alternative. (You can read her story above.)
It can also be rescuing and restoring someone from a life of desperation — like Kyi of Myanmar (whom you can read about on the following page).
While both of these stories are amazing testimonies of the transformative work you are a part of . . . we have a tremendous opportunity to do more!
That's why we're planning to expand our programs in India and Nepal, a notorious corridor for human trafficking due to their shared 1,100-mile open border. (Stay tuned for more details.)
This situation may seem hopeless, but She Is Safe has over two decades of experience addressing the root causes of sexual slavery. And "with God on our side, we will win" (Psalm 108:13).
Together, we will transform the lives of vulnerable, abused and enslaved girls and women around the world.
Thank you for making
all the difference,

Michele M. Rickett
Founder & CEO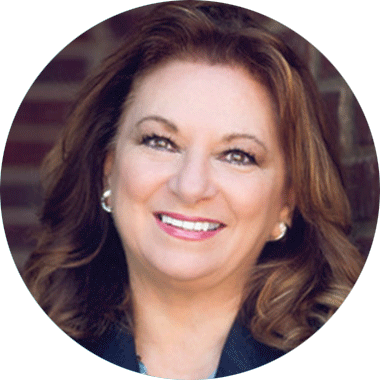 YOU have given Kyi a new hope
Kyi was living in debt, poverty and desperation with her large family due to limited income opportunities and the government instability in Myanmar.
She was also at high risk of being preyed upon by traffickers.
With no other options to support herself or her family,
she joined a She Is Safe group that began meeting in her community. She was never on time for the meetings and did not look after herself.
Kyi took out a loan from the group to pay back part of her debt and began praying for God to provide. Miraculously, her money multiplied, and she was able to pay back the full loan.
Now everyone can clearly see Kyi's life transformation. Her face and clothes are clean and her hair is brushed, and she's always on time to the She Is Safe group meetings. She doesn't want to miss praying with the other women.
"The more I pray to God," Kyi said, "the more He answers me."
Thank you for making it possible for Kyi to escape darkness and for offering her a new life of safety and freedom!
A bright future for Meera — thanks to YOU!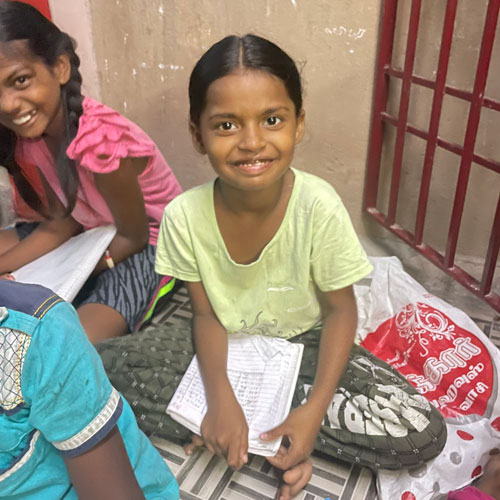 Nine-year-old Meera lives in a rural village in India. She is the oldest of four daughters, and her family is impoverished.
Every year, during the monsoon season, her village is surrounded by water, cut off from the rest of the world for days and even weeks at a time. The water makes it impossible for the children to get to school.
In this situation, many children like Meera fall behind, stop studying altogether or end up staying home to take care of their siblings. You can see how this makes young girls vulnerable to traffickers when they are older — uneducated and unskilled, they are at risk of being sold into slavery to support the family.
Yet, that isn't the future God had for Meera . . .
Your gift of ABCs and 123s is priceless!
Through your support, Meera attends the She Is Safe- sponsored Children's Community Center (CCC) in her village, which operates even during monsoon season. Here, Meera is learning to read and write and is developing personal values that will protect her in the future.
The hope and opportunities you offer to girls like Meera are life-changing. Thank you!
HER JOURNEY
TO FREEDOM
can start today
She Is Safe works across Africa, the Middle East and Asia in communities that sell their daughters into sexual slavery. Your partnership with She Is Safe holistically transforms these lives — for about $1 a day.
Since 2002, She Is Safe has worked to address the root causes of modern slavery and employ best practices with local partners, providing:
Prevention — equipping women and girls who are at extreme risk of slavery to be free and self- sustaining. Women and girls gain awareness of how traffickers lure and entrap victims. They gain literacy and business skills, generate income and learn God's view of their worth.
Rescue — working with local teams in places where girls are likely to be trafficked: slums, red light districts, source villages, conflict zones and refugee camps. We befriend girls and help them go from being used as a commodity to becoming victors on a new path.
Restoration — bringing girls to a restoration home sponsored by She Is Safe where they experience love and physical healing, spiritual nurture, counseling and job training to build new lives.
Each month, as little as $35 provides these services along with a shift toward God's view of each of these image-bearers.